Otter Valley Ice Cream and Field kitchen, certainly is an exciting place to be, and we absolutely love what we do.
Our History - A proud farming family.
Our family is at the core of our business - and we certainly are a proud farming family.
It all started with our summerhouse which we proudly opened in April 2010 - a young and exciting new business venture with a simple vision - to create and sell the best possible homemade gelato Ice Cream, cutting no corners - everything from scratch - here we stayed and grew our business over 8 years.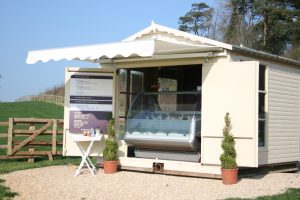 With dreams of a permanent home for our ice cream - we opened our Field Kitchen on the 25th October 2018.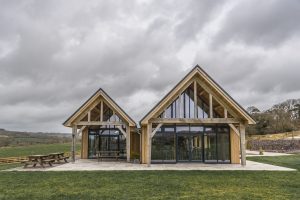 The new building, which replaces the summerhouse, marks the start of a new chapter for Otter Valley. Beneath the oak trusses high overhead, walls of glass allow you to experience panoramic views of the unspoilt Otter Valley. The valley nestles in the Blackdown Hills, which have been designated an Area of Outstanding Natural Beauty. At the same time, the restaurant is highly accessible, being just off the A30. This road is known as the Gateway to the South West, as drivers head from London/the South East towards Devon and Cornwall.
Our Gelato - Made only ever in small batches from scratch.
Unlike large producers our gelato style Ice Cream is made only ever in small batches.
We are passionate about creating the best possible gelato style Ice Cream. We have travelled to Italy on several occasions to learn from the worlds best, as well taking gelato making master classes, and gathering master skills from an Italian Chef.
From handmade ripples, natural ingredients, hand rippled inclusions to the slow churning of each and every mix (using our wonderful artisanal machine), every stage is lovingly carried out from scratch, there certainly are no short cuts in producing Award Winning handcrafted Ice Cream.
It really is quality you can taste.
SMOOTH, CREAMY, FULL OF FLAVOUR & UTTERLY INDULGENT.
Since starting the business in 2010 we are very proud to have won Local, Regional & National Awards.
Our Awards from before we opened the Field Kitchen - sadly we no longer have time to visit shows and enter
Ice Cream Champion - Devon County Show 2019
Ice Cream Champion - Devon County Show 2018
Winner of Gold at Taste of the West 2017
Winner of Gold at Taste of the West 2016
Ice Cream Champion - Devon County Show 2015
Ice Cream Champion - Devon County Show 2014
Ice Cream Champion - Devon County Show 2013
Best Ice Cream of the Year  2012 - Taste of the West
Overall Ice Cream Champion - Devon County Show 2012
Best Ice Cream and Sorbet of the Year 2011 - Taste of the West
Winner of Gold, and Silver Taste of the West 2011
Winner of two-gold stars at The Great Taste Awards - 2011
National Ice Cream Awards - Diploma of Merit - 2010
Winner of Gold, and Silver Taste of the West 2010
Winner of Gold, Silver & Bronze Devon County Show 2010