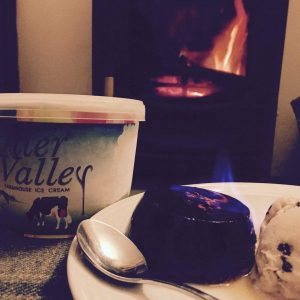 TAKING OF CHRISTMAS ORDERS HAS NOW CLOSED.
However, we will make a selection of spare tubs – so don't fear if you have missed the deadline – you can still pop and see us on the 16th December and choose from a selection on a first come, first served basis.
11am-4pm.
You can once again enjoy our range of Ice Cream with friends and family this Christmas.. Simply choose your flavour from the list below (don't forget to tell us the size pot you would like also) and then email us at: orders@ottervalleydairy.co.uk and we will make your order for you.
Ice Creams must be collected on the 16th December only – Collection 11am until 4pm. Cash payment on collection please.
Choose a size
 480ml – £5.50
1 Litre – £9
2. Choose your flavours
Christmas Pudding
Mandarin & Champagne
Pear & Stilton
Irish Cream Crunch (Contains Nuts)
White Chocolate & Raspberry
Ruby Port Sorbet
Vanilla
Chocolate
Blackcurrant Ripple
Strawberry
Honeycomb
Mint
Lemon & Lime Meringue
Coffee
Salted Caramel & Chocolate Brownie (1litre only)
Banana & Peanut Butter (1 Litre only)
Toffee Fudge
Mango & Passionfruit (1 Litre only)
Orange Marmalade (1 Litre only)
Rum & Raisin
Lemon Curd
Seabuckthorn
Coconut & Stracciatella (1 Litre only)
Mixed Berry Sorbet
Please be aware that all our products are made in an area where we use dairy, wheat and nuts.
3. Email us your order at orders@ottervalleydairy.co.uk
4. Collect on the 16th December – 11am-4pm. Cash on collection, no cards (sorry)